What to do with celeriac?
Posted: 15-10-2020
Keywords: veggie | how to cook with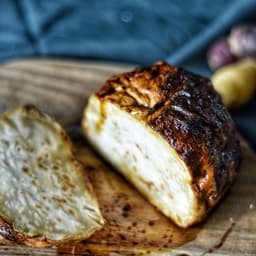 Autumn is here, and maybe some are sad that the sun is less visible, and we are getting more rain, but I am happy when this season comes that allows for stronger flavors, earthier, and richer creams and sauces on my plate.
I get happy already when I look at the bounty of seasonal produce. Here in the Netherlands, the month of September and October is about corn, celeriac, parsnip, pumpkin! But also kohlrabi, white cabbage, and more leafy greens like endive, kale, rucola or purslane. So as the temperatures drop, we can make it warmer on our plates.
Pumpkin and parsnip are ideal for very rich and creamy purees that can be so well paired with "steaks" of celeriac. Have you ever tried such a steak? I am using this word, not only because of the looks, but this root veggie has a very nice structure, with earthy flavors, next to a good amount of nutrients including protein, fiber, and vitamin C, B6, and K, but also potassium. Don't feel tricked by the name, the veggies are amazing with or without labeling them as what is traditionally known as "animal products"!
If you want to try a celeriac steak, I can recommend two ways to go about it. Will you try it? Take a photo of your outcome and tag me! @foodexperiences_bygabi
First, take the celeriac root, and remove the bottom part, with the "hairy parts", then scrub well the rest of the root so you eliminate all dirt and you won't have to remove the skin.
The fast method
Slice the root in 4-5 slices (1 to 1.5 cm thickness) place the slices on a baking tray and drizzle a bit of oil and salt. Place in a preheated oven at 200 C and roast for about 25-35 minutes.
Roasting is an amazing way to treat celeriac! It brings out its natural sweetness and enhances its earthiness and notes of nuttiness, while also changing the structure. From a hard and dense root vegetable, it becomes a soft, "meaty" piece. What I mean by that is that it keeps a nice bite, in contrast for example with the result if you would boil it.
The "full" method
After having the celeriac clean, poke it throughout with a fork. That helps the cooking process, as it is quite a dense vegetable.
Rub it with 1 tablespoon of oil and also sprinkle some salt. For some extra aromas, you can also sprinkle some coriander seeds. Roast it for 2.5 hours at 170 C. You can from now and collect the oil in the tray and pour over the celeriac. This will prevent it from drying out too much, and also contribute to bringing out a nice brown color!
What is the benefit of roasting the celeriac full you might ask, "it takes so much longer…". In my experience, by roasting it full, you keep the moisture in longer ( so you get a better texture) while also allowing the caramelization to develop more (so you get a better taste: nuttier, sweeter, and less bitter).
Do try it! Tag @foodexperiences_bygabi or use the hashtag #foodexperiencesehv