Fresh BBQ
Posted: 01-08-2020
Keywords: veggies | cooking outdoors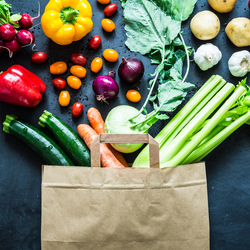 With this heat wave, BBQ is a great idea. Want to try something else than the "usual suspects" on your grill? Here are my tips for a fresh, satisfying meat-free dinner on the coals.
Mushrooms are great on bbq. Especially Portobello. You only have to remove their stem, drizzle a bit of oil and salt, and place them on the hot grill. To make them a bit extra, place some cheese inside and add some thyme. Once the cheese is melted they are done (about 10-15 minutes).
Want to experiment with other veggies? Here are my tried-and-tested timings. Just slice the veggies (not too thin) and grill them. Afterwards you can drizzle them with some olive oil and salt .
Eggplant (sliced lengthwise) 10 - 12 minutes (turn every 4 minutes)
Zucchini (sliced lengthwise) 5 - 7 minutes (turn every 2 minutes)
Bell peppers (quarters) 8 - 10 minutes (turn halfway)
Corn 15 - 20 minutes (turn every 5 minutes)
If you also like to fill your BBQ with veggies, please share your photo and tag @foodexperiences_byGabi!
*An earlier version of these tips was shared in the HowDo blog.