What can you find on this blog?
Posted: 01-07-2020
Keywords: intro | veggies | world cooking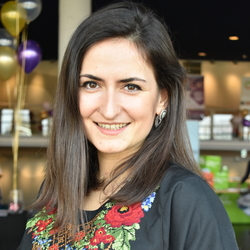 In my cooking, I love to experiment with different veggies, spices, and ingredients from cuisines around the world. I draw inspiration from foods and tastes I discovered in my travels, from my Romanian background, from my favorite chefs, and recombine ideas and flavors by adding my own touch.
In this space expect to see tips that I want to share with you, seasonal specific inspiration, and combinations of ingredients that will surprise you! From now and then I will also post original recipes that are vegetarian or vegan.
With this, I hope to inspire you to try more veggies and other plant-based ingredients, and so reduce your meat consumption. I truly believe the more of us make small changes in our consumption, the larger the positive impact we'll have on our environment!
Don't want to cook, but want to try my food or treats? Let's get in touch (link of contact) or check my online market space.